We are Amber, Ceri, and Sian. We are experienced Clinical Psychologists who met through our doctoral training.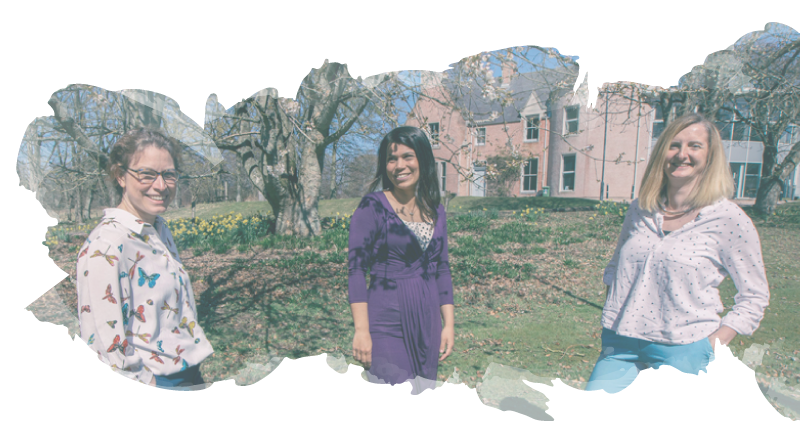 We established Aberdeenshire Clinical Psychology in 2016 after many years of working in the NHS and academia. We live and work in Aberdeenshire and continue to hold strong occupational links with NHS Grampian and the University of Aberdeen.
We expanded in 2020, adding several new psychologists to the team. We all hold varied areas of interest and specialism, and each bring something unique to Aberdeenshire Clinical Psychology.
Why Choose Clinical Psychology?
Clinical Psychology "… aims to reduce psychological distress and to enhance the promotion of psychological wellbeing"
The British Psychological Society
Clinical Psychologists complete doctorate level degrees involving research and clinical placements in the NHS. They are trained to deliver evidence-based psychological therapies, applied flexibly using an individualised, collaborative approach for issues that can present across the lifespan. They also regularly provide professional supervision, training, and consultation.
Clinical Psychologists offer integrative, individualised therapy. We help you explore your concerns, understand what has been holding you from leading a fuller and richer life, gain relief, develop coping resources and bring about positive change. We assist you to make sense of what has happened to you, what you are experiencing, and support you to move in a direction that feels fulfilling and healthy.

When you make contact, we will reply in a timely fashion. We will discuss your needs and answer any questions you may have about therapy, prior to you booking an initial assessment. This will allow you to decide if you wish to go ahead.
The initial assessment is used to better understand your situation and collaboratively explore treatment options going forward. Based upon our experience and training, we will create an individually tailored treatment plan. We offer both short and longer-term psychological interventions.